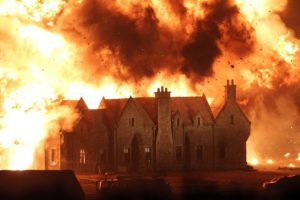 In 1880, doctors got together and built a house called the OMA. It was a small house with a big living room and magnificent doors that were always open.
The house helped doctors. That was its only purpose.
Over time, caretakers of the house found that friendship with power helped doctors. Soon the house was full of courtiers, with the doors closed. And soon after that, the doors stayed closed all the time.
The magnificent doors came to represent the whole building. They protected the building. It was their fiduciary duty.
Today, the OMA is on fire. Politicians lit the fire. But once the fire started, those in charge of the OMA ignored the smoke. In fact, many say that the caretakers could have prevented the fire altogether, if they had spent less time wringing their hands and courting power. Continue reading "The OMA is on Fire"