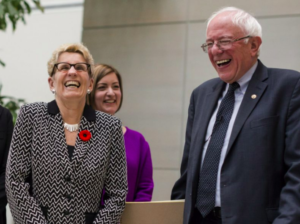 Toronto swooned over Senator Bernie Sanders last weekend. He came to visit Canadian healthcare.
He came, ostensibly, to learn.
He visited three of the shiniest, most advanced hospitals in Canada. Each of them fundraises more money than the total budgets of many smaller hospitals.
Wealthy people donate hundreds of millions to fund hospitals close to wealthy neighbourhoods. Sanders saw only the best, and he liked what he saw.
After his tour, he said Canadians were too quiet about our system. Continue reading "Weekend With Bernie While Canada Waits"