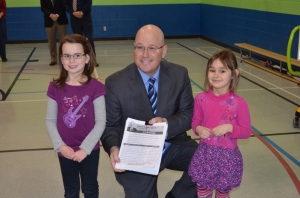 The Toronto Star loves Steve Clark.  The Conservative MPP sings from the Star's hymn book with his Bill 29 – An Act to Amend the Medicine Act, 1991.
Clark crusades on total transparency. He calls for full reporting of all complaints against physicians, all deaths reported while under their care; including complaints and deaths from other jurisdictions.
Transparency – what could be more wholesome?
The public deserves to know about every single death.  It's condescending to think the public needs protection from the facts. The public needs protection from nefarious physicians. If there's any chance the information might help one patient, the information should be public. Right?
Blame and Shame for Death
Who gets attributed with a patient's death?
When a patient dies of cancer, does the family doc who knew the patient for years get labelled? How about the surgeon who operated 2 weeks before?  Maybe the intensivist?  The palliative care doc?
Or should it be the naturopathic doc who attended to the cancer for 18 months before the patient sought medical attention?
Physicians who practice palliative care will have a high number of patient deaths.  Does that make them bad doctors?  Even if a palliative care doc is a murderous physician, how would the public know based on the reports?
Would Bill 29 encourage physicians to care for the very sick, those in greatest need? Most attempts to rescue the dying rest on slim hope. Shall we reward these deaths with blame and shame?
Blame and Shame for Complaints
Many patients write complaints, not just thoughtful people from the Toronto Star.  Often, patients with major mental health challenges have the most time to craft complaints.  Aside from the obvious ones, many complaints require investigation to reveal that psychosis, delusion, or other cognitive challenges determined the content.
Many complaints focus on things out of MD control: wait-times, legislated reporting to the Ministry of Transportation (patients hate this!), no beds available in the emergency department…
Blame and Shame – Help or Harm?
The most important question is How will this impact patients?  Will Bill 29 improve quality and safety?
The Patient Safety and Quality Improvement group from Duke says,
"This 'shame and blame' approach leads to hiding rather than reporting of errors, and thus is the antithesis of a culture of safety. Recent efforts have tried to change this—to encourage people to report problems rather than hide them, so they can be addressed."
The World Health Organization writing on safety cultures notes that blame and shame does not work.  It does not improve safety.  The Canadian Patient Safety Institute says the same thing.
Here's one of dozens of academic articles suggesting better alternatives to blame and shame – Relationship between safety climate and safety performance in hospitals.
Healthcare wrestles with creating safe places for providers to talk about ways to improve care by sharing their concerns without fear or shame. Bill 29 takes us back decades.
What's been your experience? Does a culture of blame and shame improve performance anywhere?
 photo credit: steveclarkmpp.com