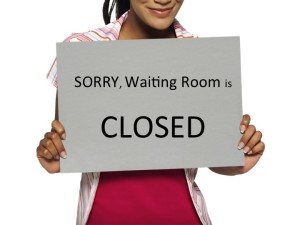 Waiting rooms benefit doctors and nurses, not patients. If you add value to every minute for patients, you will not need a waiting room. Close it and use it for something else.
This blog/podcast covers the main points in Step 2 of No More Lethal Waits: 10 Steps to Transform Canada's Emergency Departments.
Hospitals spend thousands improving triage. They use Toyota's LEAN processing to make triage efficient and quick. But none of it benefits patients if we send them from triage to sit in a waiting room.
Close Your Waiting Room
Triage acts like a dam, a bottleneck. It keeps patients out of the ED, until doctors and nurses are ready to see them.
It makes the inside of the ED manageable and organized. Patients inside the ED get care on stretchers, while everyone else waits their turn in the waiting room.
Waiting rooms make doctors' and nurses' work less stressful, but it does nothing to decrease the anxiety of those waiting with, potentially, life-threatening problems.
The triage dam turns the waiting room into a reservoir. Patients trickle into the ED one at a time, when providers are good and ready to see them. Waiting rooms keep chaos outside the main ED.
Bottlenecks
Eli Goldratt popularized the term bottleneck in 1984. Bottlenecks have a maximum speed that limits a whole production line.
We need to unblock, remove, improve, or put bottlenecks in parallel.
Doctors and nurses blame favourite bottlenecks: slow docs, slow nurses, admitted patients, sick calls, etc.
Instead of blaming things out of our control, we should try to put all ED processes in parallel. EDs need a quick, historic triage (sorting), but everything else can happen in parallel, at the same time.
Patients should go straight from triage into the main ED. If they can sit on waiting room chairs for hours, they can sit on chairs inside, where doctors and nurses work. We will discuss the details in the next Steps.
Close your waiting room and get patients inside the ED. The first doc or nurse available can see the patients, in no particular order. Get patients what they need as quickly as possible, just like a trauma case.
Objections
"But that will just increase patient volumes!"
"As soon as people find out they can get seen right away, we will be flooded with patients!"
"Besides, only really sick patients should come to the ED. We should educate patients to go somewhere else."
a. Clusters of Emergencies; Idleness in Between
Picture a team working on a critically ill patient. How many people are in the room?
A patient who stops breathing needs 1 (or 2) doctors, 2-3 nurses, a respiratory tech, a clerk…and often many more staff to help at the same time.
Two patients arrest, at the same time, every few days in a busy ED. Three arrest at the same time, every month or two. Most of us can even remember a time when 4 patients arrested at the same time, or very close together.
We need at least 4 staff per arresting patient. If a large department needs to be ready to care for 3 and sometimes 4 arresting patients, at the same time, the ED needs up to 16 staff on duty.
But only a handful of patients arrest each day. What will ED staff do when they are not treating acutely ill patients?
Trauma rooms – special operating rooms staffed to manage trauma surgeries – face the same problem. Hospitals decrease the waste of having a trauma room ready by using the room for less urgent cases.
High efficiency EDs do the same. EDs pursuing the elusive dream of seeing only high-acuity patients waste resources.
b. Send patients to a clinic
Most ED patients could go to a clinic that had stat labs, urgent U/S and CT access, IV supplies, medications for acute care, nurses, a crash cart… An ED by any other name is still an ED.
Instead of sending patients away, many people talk about educating patients to go anywhere other than the ED. Step 4 tackles this issue in a section on 'mental furniture'.
For now, if we want patients to go somewhere else, we need somewhere great for them to go. We should not berate patients for seeking care; it creates rotten attitudes in providers.
c. Costs vs. costs/case
Efficient organizations give great care for the lowest costs per case. Hospital boards love efficient EDs. Boards cringe at EDs with high costs per case, who chase mythical 'high acuity only' departments.
**********
I hope this super-short summary gives you a sense of what's in the book.
Thank you to everyone who checked out the first blog/podcast!  You've already raised challenging questions that I will get to soon. Keep them coming!