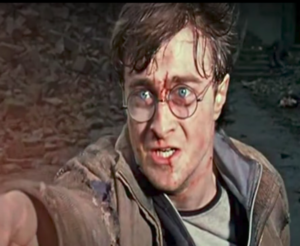 People love movies about underdogs. We like watching Harry Potter get picked on because we know that he fights back in the end.
Underdogs create great stories, but they do not stay under forever.
Medical schools look for students who seem able to care.
Do they have empathy? Are they lovers or fighters?
Journalism and law schools look for different things.
Med schools err on the side of sensitivity, even if it means that some gentle souls might burn out now and then. Better that than a class full of fighters and advocates.
It wasn't always this way. In the olden days, good grades guaranteed a spot. Schools didn't weed out the way they do now. Each class formed a cross-section of everyone who did well in school and wanted to become a doctor.
Medical school interviews changed all that. Doctors trained since 1990 have been selected for sensitivity. They have endured extensive psychosocial training. They have been selected and trained for professional deference.
And patients like it.
What could be nicer than having a caring, sensitive person devoted to your wellbeing? Someone who strains to avoid your displeasure?
It's like having a Grandma with no rules, a Grandpa without gruff or your own Santa Claus all year long.
After med school, the system itself shapes doctors. Inside Medicare doctors never have to fight for payment. Almost all fees get paid. There's always a line-up of patients to be seen. A state-run system atrophies competitive instincts.
Professional Doormats?
But as the system runs out of money, doctors need skills they've never had to use. They must advocate for their slice of a shrinking pie.
Without fighting spirit, doctors become doormats.
Experts opine freely on the "right" number of doctors in a specialty.
Pundits go unchallenged when they talk about doctors and patients as if they were pylons and traffic. Put docs in the right spots and patients will march to the right access points.
No one ever says, Wait a minute. Doctors are professionals. They run small businesses. Shouldn't we let them decide when and where to work based on patient need?
Professional doormats do not fight for themselves. The CANMEDS framework – the holy writ of competencies for medical trainees – doesn't even include doctor as 'person'.
Docs must be everything else – leader, scholar, communicator, etc. – but not a person. Doormats should serve, not have personalities or needs.
Doctors face competing expectations. They feel guilty to speak out, given the privilege of serving patients. Most people who serve see service as a privilege. Most doctors see medicine as a great privilege, an honour. How dare they complain given this privilege?
Not About Doctors
If this were only about doctors, it wouldn't be worth mentioning. The problem with doctors as doormats is that they cannot fight for patients. They don't have the capacity.
They cannot fight even when fighting is precisely the right thing to do.
Some grassroots doctors already get this. Search #ONhealth on Twitter to see edgy, creative advocacy.
Here are a few tweets:
If you had to wait 259 days for car repairs, would you consider yourself insured? #LetsFixOntarioHealthcare #ONhealth pic.twitter.com/AIdOzxq1Yj

— Shawn D. Whatley (@shawn_whatley) June 28, 2017
Here's a creative one from today:
This. Right here. #ONhealth #ONpoli pic.twitter.com/v9VDnfDb4i

— Nadia Alam (@DocSchmadia) July 6, 2017
Grassroots docs can be much more direct than me or anyone who is seen as part of a larger organization:
My patients are waiting 15 months before they can have cataract surgery. should I 🛑 accepting new referral? NO there R only 2 EYe surgeons. pic.twitter.com/SIB9sQQ9gY

— Christine Suess (@drcsuess) July 6, 2017
Doctors can change the system. They need to realize that it is okay to fight and advocate. Doctors cannot wait for someone else to do it for them.
We don't need to be partisan.
We don't need to be mean.
We don't need to slam all politicians. Many are trying to fix things.
But we need to speak up and tell the truth about what our patients are experiencing. Patients need champions, not doormats.