Racing a patient through the emergency department on a stretcher makes exciting TV.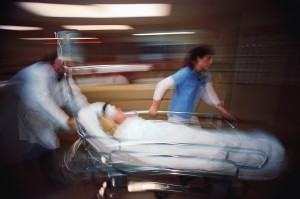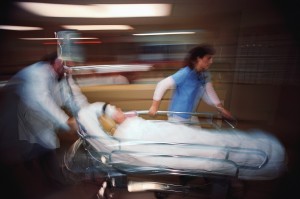 But for most EDs, stretchers are the enemy, because stretchers crush patient flow.
Most patients walk into the emerg and walk home – less than 15% get admitted in Canada. There's no need to force patients to lie on a stretcher unless absolutely necessary.
Patients sit for hours with serious or potentially life-threatening conditions in most waiting rooms.  It's much safer to get them in and examine them on an exam table inside the ED even if it means they have to sit in chairs during investigation and treatment.
Sure, some patients need stretchers for the duration of their ED visit.  But for most patients, if they can walk, they can sit.  If they can sit, they do not need a stretcher.
Stretchers enable dysfunctional behaviour that makes patients wait.
Stretchers –
1. Attract admitted patients boarding them for days.
2. Act like real estate for ED patients.  Providers assign one 'lot' for each patient.
3. Make patients immobile even if they walked into the ED.
4. Allow providers to 'tuck patients in', rails up, safe and sound.
Exam tables increase flow by –
1. Removing a spot for admitted patients.  Exam tables are like OR tables:  OR tables are for surgery, not admission.
2. Providing a shared resource for all, not an assignment for one.
3. Getting patients to move, which fosters flow.  Exam tables don't have wheels.
4. Keeping providers moving with patients.  Exam tables are unsafe without a provider present.  Patients spend minutes on an exam table instead of hours on a stretcher.
Dozens of patients cycle on and off one exam table, whereas one stretcher serves only a few patients per day.  If the average patient spends 6 hours in the ED, each stretcher can serve, at most, up to 4 patients per day and usually far less.
If you haven't done so already, replace as many stretchers as possible with exam tables.  If exam tables are only found in the minor treatment area, you don't have enough!
Like any change in historic process, providers realize how attached they are to stretchers when you start asking them to use exam tables instead.  But without building EDs twice the size, we cannot continue insisting that all patients, except the lowest acuity, get seen on stretchers.   Staff support exam tables once they see how much  flow improves; it's the best way to get patients seen and treated promptly in today's over-crowded EDs.
Stretchers ruin patient flow, function as a reservoir and promote dysfunctional behaviours. Get rid of them where ever you can!
Do admitted patients block your ED stretchers?  Do all your ED patients currently in stretchers actually need to be in one?  Are they blocking flow making other patients wait for care?  Why not replace some stretchers with exam tables?