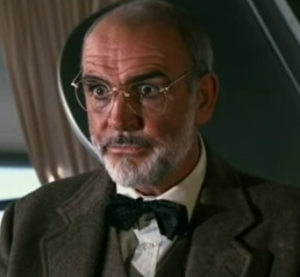 Indiana Jones and the Last Crusade pivots around Indiana Jones' relationship with his father.
During the first half of the movie, Indiana treats his dad with a mix of frustration and programmed obedience.
At one point, Indie sits with his dad and asks why they never talked.
Indie says that his dad taught him that he was less important than people who had been dead for 500 years. His dad insists that he was a great father: He gave his son independence.
The conversation heats up, and Indie's dad finally closes his book. He leans back and says,
Okay, I'm here. What do you wanna talk about?
He stares at Indie: see the picture above.
Indie is at a loss for words. I….I don't know, he says.
His dad says, Well alright then. We've got work to do!
Indie drops the topic, his dad stays convinced that he was a good father, and the movie continues.
Board & Executive Committee
We find Boards everywhere: hospitals, banks, medical associations and athletic clubs. Not all groups have Boards, but we all belong to groups governed by Boards. If we want our groups to perform well, we need to know a bit about the Boards that run them.
Boards of Directors usually have between 8 – 15 members, and sometimes over 50. Boards create strategy, select a CEO, protect the organization from harm and reflect on how the organization performs.
Boards set the course and also serve as the rescue crew. If a Board fails, the organization founders without hope.
Boards hire one employee, the CEO, to put strategies into action. The CEO, not the Board, deals with staff; Boards must not manage.
Board Directors need to be at arms' length from an organization to be able to fulfill their duties. For more on this, check out: How to Influence a Board.
Many Boards create Executive Committees (Exec). The smallest Execs include the Board Chair, President Elect and President.
Large boards throw in one or more of: the Secretary, Honorary Treasurer, Vice Chair, Past President, and sometimes even a Member at Large. Senior management attends Exec meetings, too.
Pros of an Executive Committee
The Exec:
Works on behalf of the Board in between board meetings.
Saves the organization some money, with fewer full board meetings.
Allows the organization to respond to urgent needs.
In addition, some say that the exec helps train Directors, especially in membership organizations, to someday take on senior positions such as President.
This grooming approach has Directors serve for 8-12 years on the Board before they become President, in some cases.
But other elected Boards select their President Elect with elections that are open to all members. Many say this attracts the best candidates.
(Potential) Cons of Executive Committees
All the pros are also potential cons:
When the Exec works for the Board in between board meetings, it often assumes duties that should belong to the whole Board.
The Exec can end up duplicating work and wasting money. If an Exec becomes too powerful, it becomes a parallel Board.
An overactive Exec turns Exec members into management (staff). It gets tangled in 'urgent' issues that management should have handled.
There are even more risks. Often, the Exec:
A) Creates intimate ties with senior management. Enmeshed Directors cannot fulfill their duties as impartial, objective leaders.
B) Starts by handling a few crisis issues but soon becomes a vetting ground for anything of substance.
C) Becomes blind to its own influence.
Large Executive committees swear that the Board has final say and that the Board gets consulted on everything.
Even if the Exec brings an issue to the Board for debate, the Exec has already debated it in their own Exec meeting.
During the Board meeting, the Exec speaks in unison. Rare Board members challenge the wisdom of the Exec powerhouse, but votes almost never go against the Exec's position.
None of this needs to become reality. A high functioning board stays vigilant to these potential risks and addresses them. Many Boards find ways to perform well with large Executive Committees.
The Executive Committee itself must stay almost hyper-vigilant to these traps. Execs need to actively seek input to make sure that they are not creating governance chaos. Execs will not see the mess they create unless they ask for feedback.
Pointing Fingers
When organizations stumble, look at the senior leadership. Sometimes, the CEO has been in place for years and the Board has no clue about what is going on. Still, a properly functioning Board should be able to manage even the worst CEO.
Often, Boards cause organizations to fail. They get distracted. Boards lose sight of their vision and forget why their organization exists in the first place. Add to this an Exec that wants to run everything and organizations do not have a chance.
Experienced leaders can deliver results using imperfect structure. But even great leaders find it impossible to manage crisis, when their organization lacks good governance.
At the same time, solid governance cannot protect organizations from bad leaders. High performance requires leadership and governance.
In the end, Boards are human: frail, faulty, and often blind to their own weakness. Boards find it easy to stay convinced of their success, just like Indie's Dad stood firm on his reputation as a father, results notwithstanding.
Given all the ways that humans can fail, it is a wonder that we do anything great. But we do amazing things, all the time. Every crisis has a solution. We just need help to find it.
Boards need help, too. Hopefully, they can see that. And hopefully they see that the members they serve offer some of the best help available. Members are not the enemy.