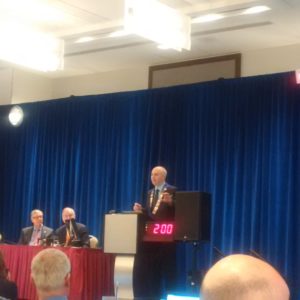 Like the last post, many people have asked for copies of my first address to Council as President.
A number have shared bits and pieces on social media, so I thought it was best just to share the whole thing here.
This is just a starting point. I look forward to seeing where we – all of us – take this from here.
Shawn
******
Thank you, Mr. Chair, Members of Council and Special Guests.
In my election speech, I offered three priorities for the OMA over the next year: trust, unity and excellence. I'd like to expand those ideas a bit more over the next few minutes. I offer these for discussion. I hope you will argue with me. I offer them as a starting point to a larger conversation.
Everyone agrees: We need an agreement. But we need more than that. We might get a wonderful agreement. But if we do not have a system—the excellence—to socialize it with our members, it will fail.
We need to show that we can ratify a deal. For this, we need members' support. Support is based on trust.
So, we need more than an agreement. We need: Trust, Unity, Excellence.
Trust
The OMA is nothing without members' support. How can we win their trust and support?
To build trust, we must tell the truth, in everything, always. People know that healthcare has problems. When an 80 year old spends 20 days in a TV room, and when we hear dozens of other stories like it, people know there are problems.
We must find a way to tell the truth about healthcare, but with gentleness. We do not need to be rude or cruel.
In the same way that we are completely honest with our patients; we tell them bad news, all of it. We must tell the truth about healthcare.
But just like we talk with our patients, we need to share bad news with compassion and gentleness.
And just like with our patients, we need to offer hope. We need to offer solutions. We need to commit to stick with problems until we see them solved. We must not abandon them.
Winston Churchill said,
"The truth is incontrovertible. Malice may attack it, ignorance may deride it, but in the end, there it is."
We must tell the truth and stop sugarcoating it. It's the first step in building trust.
Truth means transparency. We need to favour transparency over sharing knowledge only "On a need to know basis".
Of course, there are times when we cannot tell every little detail about everything. People get that. We do that in our own homes, with our partners, in our families. But given the choice between transparency and 'managing the messages', we must err on the side of transparency.
There are other ways to build trust.
People trust us, when we trust them. We need to trust our members. They are the experts. They know their jobs. We need to serve them. The majority of doctors are good people. We need to find a way to listen to them, to serve them.
We must follow through on our commitments.
We need to build relationship. And not just so that we can get people to think and act they way we think that they should. No. We need to build relationship first, for its own sake. People will never change their mind or their behaviour unless we've built relationship first.
We must avoid cliques and favoured candidates.
We must give away power. We are here to serve members.
Unity
The next priority is to rebuild unity.
We often talk about us all being MDs, or say that, "We are all in this together." Those are nice things to say in good times. They are almost useless right now.
We must build a profound unity that starts by addressing our fundamental differences and building a true partnership from there.
Think of the biggest problem—the biggest division—that comes to mind when you think about healthcare: for example, tensions between rural and urban; distribution of doctors; relativity.
Too many times, we jump to a solution to "fix" these problems. We rush to find a great technical solution. We survey the members and use evidence-based decision-making… and the solution fails.
We cannot fix problems with only great solutions. We need more. We need leadership, project management, plus a great technical solution.
If I try a great idea in my hospital, say, I close my waiting room; it will fail without great project management and great leadership.
Too often at the OMA, we have focused on great technical solutions, without placing as much emphasis on the management and leadership required.
Leadership might not completely solve our toughest problems, but it will certainly move us further towards a better solution.
So, what do I mean by a 'true partnership'?
These ideas come from Peter Block's work. He suggests that partnership must start with an exchange of purpose. Before we build a solution, we must partner together to decide what it is that we even want to discuss.
Partnership requires total honesty. We cannot hold information back because we worry that the other person will use it against us later. We need transparency.
Partnerships give each other the right to say No; especially the weaker partner. When big sections work with smaller sections, we must give the smaller section the equal right to say No, in a partnership.
Partnership means joint accountability. We both own the outcome.
It means no abdication. Neither of us can walk away when we do not like how things are going.
Excellence
Finally, we must demand excellence… And excellence starts with the Board.
We've already seen change at the Board. A major governance retreat and training session is booked for next week. We have new Board Directors.
Excellence requires even more than that.
We must empower our CEO. We have great staff. We have a great CEO. We must empower them, and then get out of the way!
We need to let them do what they are good at…. And keep them accountable if they mess up.
But we spend far too much time doing what they should do. If we jump in and make changes to everything they are doing, it will not help. It will make things worse. We will mess it up. It will create chaos.
We must figure out what our role is, here at council. We must understand what the Board is supposed to do. We need to know how our role is different—very different—from staff. And we need to empower staff and let them do their job.
Hope
These are exciting times. Many people have said how we are in the midst of major change.
In every change or crisis, people experience it differently. I want to share something by Dickens, from The Tale of Two Cities:
"It was the best of times, it was the worst of times, it was the age of wisdom, it was the age of foolishness, it was the epoch of belief, it was the epoch of incredulity, it was the season of light, it was the season of darkness, it was the spring of hope, it was the winter of despair."
Many of our long time members, who have served the association for years, are not hear today.
For them, this is a winter of despair. They sacrificed their jobs, their careers, to serve the members.
For whatever reason, they got caught in a crisis, a crisis in healthcare. Their careers have been changed forever. Just like we have many new members to council today. You have new careers in medical politics. Your lives have been changed.
So too, many who are not here today have had their career paths changed, too.
We are filled with hope. We are excited about change. We want to forget the old and move on with the new. But not everything behind us is bad. We need to find a way to remember what is good about the past, what good things those before us have done.
Dickens set his story during the French Revolution. He talked about London and Paris. He contrasted hope and despair. For some, it was a time of hope, for others, a time of despair.
We need to ask ourselves: What will we choose now? Will we choose hope, or despair? Will be embrace unity? Excellence?
This is up to us. You are here. You want this. We can rebuild a better OMA: one that will be better next year and better the year after that.
Now let's get to work, together.
Thank you.