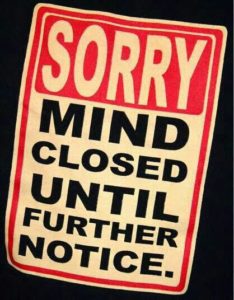 Fundamentalism simplifies life. It turns a messy world, full of grey, into a crisp, clean existence of peace and clarity. Even dogs and colour-blind people can see black and white.
Fundamentalism uses publicists to guide true believers.
Some news columnists, ersatz journalists, make their living as publicists. They sell words that paint the same, stark plot: Everyone is good or bad, oppressed or oppressor.
Stylites in the Main Stream Media chant their sermons, while the choir nods in unison.
Doctors are oppressors, arrogant and powerful.
Liberal members of parliament are warriors for social justice.
Not even Odysseus could sail between the publicists and warriors unscathed. Black and white makes life so simple.
Most people expect news-papers to report the news, not create it.
Now, many newspapers only write about events that support their narrative. All these 'news' sources need is a tweet, a quip or even a rumour. They use the tiniest tidbit to layer on pages of opinion. They craft their journalism-as-sermons by filtering:
What gets reported
What gets ignored
The timing of a story
How many times the story gets repeated
The tone
Bias and balance (or lack thereof)
Errors of fact
Errors of omission
There's nothing wrong with opinion. We love it. That's why we read editorials and blogs.
Responding to Fundamentalism
Doctors call fixed, false beliefs delusions. Deluded people need help, not debate. They need compassion and empathy. They cannot reason or think straight. Some of us pick up delusions from trauma.  Others get delusions the way we get wrinkles: They just happen.
The worst thing we can do, when helping someone locked in a delusion, is to reason with them. Chesterton said that insanity is supremely rational:
To the insane man his insanity is quite prosaic, because it is quite true. A man who thinks himself a chicken is to himself as ordinary as a chicken. A man who thinks he is a bit of glass is to himself as dull as a bit of glass. It is the homogeneity of his mind which makes him dull, and which makes him mad.
Fixed, false beliefs contain bits of reality. But delusions jumble our ability to scale and scope. Normal people sift evidence. They make trade offs. They do not generalize without warrant. For example, seeing one person arrested does not mean that all police officers want to arrest you, or anyone else.
Sometimes a fundamentalist will say something true. We can show cautious support. But the smartest ones are often just trying to rope us into their next rant.
Doctors crouch in the middle of a high school food-fight (or worse), in Ontario. The Wynne Liberals chose to attack us. Our patients suffer on wait lists for surgery and die with treatable cancers, while waiting for beds.
The Wynne Liberals are fighting for survival.
The OMA is fighting for survival (if it has any political insight).
The failing Toronto Star, the media arm of the Liberal party, is fighting for survival.
In the centre of this mess, doctors must keep their wits. Our moral beachhead is patient care. Patients need medical care from doctors. We cannot provide medical care when government keeps cutting fees, closing beds and cancelling surgeries.
The good thing about fundamentalists is that they stay on point. Once you know that they hate you, turn your attention to more productive work.
You will never argue people out of their insanity. Show compassion. Remember all the other people who need your help. Keep advocating for patients, even when the Stylites hit you with something ugly.