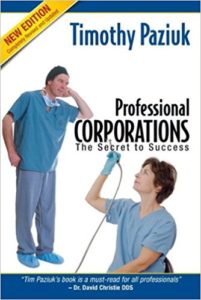 I wrote a blog about intimidation versus straight talk today, but I was too intimidated to post it. So, I'll save it for sometime in the spring.
On a safer topic, finance minister Bill Morneau has sparked outrage in the business community.
He plans to hit small businesses with an over 30% tax hike. Morneau says that incorporated small businesses are no different than a salaried employee.
Tim Paziuk wrote a great list that shows how Morneau is wrong.
Paziuk is an accountant specializing in Canadian professional corporations. His book on corporations was invaluable, when I was setting up my own corp.
The only thing I can add to Tim's list is that corporations have a greater burden of accessing financing and complying with regulations.
Incorporated vs. Salaried
Morneau starts his dreaded tax proposal by asking us to imagine an incorporated person and her salaried neighbour. Morneau makes a dishonest comparison, and Paziuk shows why below.
The following is taken from one of Tim's blogs on HuffPost (with 1 or 2 minor edits).
Incorporated
Variable income, not guaranteed
No job security or workplace accommodation
Must personally guarantee company/business debt
No Employment Insurance (EI) coverage
Canada Pension Plan (CPP) coverage at twice the legislated employee cost
Hours extremely variable (can vary from 0 to 90 hours per week). Must be willing to work additional 20 hours or more a week without notice. No overtime pay.
No paid holidays
No paid parental/maternity leave
No paid bereavement leave
No extended health, dental or insurance benefits
No employer matching retirement program
Statutory holidays will not be covered
Should you require additional employees for completing your work, you shall be personally liable for:

guaranteeing they have a steady and reliable minimum income
covering 58 per cent of their EI cost
covering 50 per cent of their CPP cost
meeting all statutory labour requirements for work hours, overtime hours and pay, holiday leave and pay, statutory holidays and parental/maternity leave.
accommodating them for any limitation preventing them from completing the work they are providing you
damages should you no longer require their assistance
Salaried
Imagine one of your deputy ministers. A federal deputy minister makes about $220,000 per year. What else would they be entitled to? Correct me if I'm wrong, but I think it looks something like this:
Employer's pension contribution up to $25,000
Employee benefits $6,000
Employer CPP contributions $2,569
Employer EI contributions $1,170
Up to eight weeks of vacation (worth) $33,846
10 statutory holidays (worth) $8,461
Up to 15 sick days per year (worth) $12,692
All of these entitlements add up to $89,738.
Did I miss anything? I'm not sure if I should add anything for employer paid parties, food and drinks.
Bonus Material on RESPs
Tim also ran some calculations for me to show how much I lose out on RESPs if Morneau gets his way. I have put all the savings for my children's education into my professional corporation, upon expert advice.
If Morneau stops family shareholders, I can not pay for my kids' education, AND I have lost years of RESP contributions.
Tim wrote:
Here's your numbers because you did what you were allowed and saved your children's education money in your PC instead of buying RESPs
In order for you to be made whole by the federal government they should send you the following cheques
For your 18 year old        $12,060
For your 16 year old        $12,179
For your 14 year old        $  7,809
For your 12 year old        $  5,381
$37,429
What we did was assumed you bought RESPs for your children the year they were born and deposited just enough to max out the grant.
Because your 18 & 16 year old are not eligible for any grant money now they lose out on the entire $7,200
For our calculations we used a 5% average rate of return.