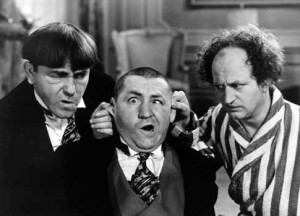 One of the smartest men I knew had a grade 3 education.
He followed politics and current events. He toyed with bookish pastors who dropped by to convert him. He could build a house, fix a car, grow and store anything edible, and much more.
He embodied Heinlein's vision:
A human being should be able to change a diaper, plan an invasion, butcher a hog, conn a ship, design a building, write a sonnet, balance accounts, build a wall, set a bone, comfort the dying, take orders, give orders, cooperate, act alone, solve equations, analyze a new problem, pitch manure, program a computer, cook a tasty meal, fight efficiently, die gallantly.
Specialization is for insects.
Never Enough Measurement
We discussed measurement in Medicine is Relationship, Not Quality Metrics.  It sparked a thoughtful guest post: It's Not a Choice, Good Quality Requires Relationships and Measurement.
Measurement hogs the microphone in healthcare. Anyone who questions measurement gets labeled a Luddite. They must favour ignorance, or anarchy.
Before we dismiss the Luddites, listen to their question:
Can we trust our capacity to measure everything we need to make great decisions?
Each day, 320,000 patient visits produce millions of data points in Ontario. In one day.
Measurement starts to look like a teacup scooped from an ocean of information.
Those who question the role of measurement want more information, not less. They do not disagree with measurement per se.
Necessary Ignorance
The economist Hayek said that everyone has a necessary and irremediable ignorance.
Rational decision-making demands knowledge of available and relevant facts.
But it is impossible to know all the 'millions of facts, which in their entirety are not known to anybody,' Hayek said.
Hayek believed we make better decisions using widely dispersed fragments of knowledge, not better quality knowledge for a few smart controllers.
( Ref. T. Sowell, A Conflict of Visions: Ideological Origins of Political Struggles
).
Brilliant Elites vs Ignorant Plebes
"How much measurement do we need?"
Heretics question the primacy of measurements in decision-making. Spreadsheets and scatter-plots leave too much unmeasured.
No one is smart enough to control a whole industry using primarily measurement and audit. We need the billions of data points from all patient care decisions.
Millions of decisions made every day offer a better source of information. Front line doctors and patients possess and create information with every choice they make.
A small group of elites will never know this ocean of information, no matter how big their brains are.
We all want a great healthcare system. True greatness comes when system leaders embrace their necessary ignorance.
Certainly, keep measuring. But we should put more trust in the unmeasurable information guiding patient care at the front lines.
Doctors and patients are uneducated in policy and politics. But they are not stupid. Perhaps we should listen to them. Let them make more decisions using information that system planners will never know.
photo credit: en.wikipedia.org