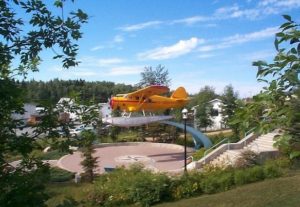 Everyone is special, some more than others.
Need trumps merit in our socialized healthcare system. So naturally, we all compete to be the most needy. It's in our best interest.
Appearing needy maximizes the chance of getting funding. Strength invites scrutiny or funding cuts.
Is the whole thing a sham?
Should all stakeholders get identical gifts?
Despite cynicism about interests and special favours, small towns have unique needs. Northern medicine is truly special. The big issues are, for the most part, the same as everywhere else:
Funding cuts cause decreased access to care.
Overcrowded hospitals leave patients in hallways.
Lack of long-term care beds exacerbates hospital crowding.
Bad management makes everyone suffer.
The issues are identical. The impact is unique.
I worked for a few years in a small emergency department. During that time, I thought advanced life support course instructors were funny when they said, "Call for help early!" What if it's just you and 1 nurse? No RT, no ward clerk, and call 911 for security?
I also grew up in the woods outside Thunder Bay. My parents are still there. I live and practice in a rural, not remote, village of a few thousand just north of the GTA.
None of this makes me an expert on rural care or small towns, but I have some sense of the experience.
Northern Medicine
I finished the annual OMA President's roadshow across Ontario last week by visiting the doctors in Kenora, Dryden and Fort Frances. I also visited with many other small town doctors, across Southern Ontario this fall.
Nothing replaces face-to-face meetings. Nonsense emails or gossip shared with pressured speech seem to vanish in significance with a few lines of rational interaction.
More than anything else, I was impressed. Small town doctors are the genuine articles. They do everything. They've seen just about everything. They care deeply about their hospitals and how their medical community functions. Most of us do not appreciate the work done by doctors in small, remote communities.
Three things stood out in conversations with these doctors about Northern medicine and small-towns in general:
A. You cannot hide.
Curmudgeons cast an unavoidable shadow in a small town. Just to be clear, someone, somewhere, thinks each one of us is crazy or difficult to work with. We are all eccentric in someone's eyes.
In a large centre, you can avoid people you do not like or trust. Just wait a few hours and refer to the next consultant on shift.
In a small centre, there might only be one consultant. As a physician, you have to see the same guy, over and over again…for years.
He remembers all your dumb referrals. You remember all his grumpy consults. You know the clinical conditions he cannot handle. He knows all the problems you are too scared to manage.
The same thing happens between nurses and doctors. "Dear Lord, do I seriously have to work alone with THAT doctor/nurse for 24 hours over the holidays?"
In large towns, doctors can fire abusive/stalking/scary patients. In small towns, doctors can fire patients too, but they just come back.
City people think that country folk just want to get away from it all, to be alone with nature.
Country living is more like living with family. If you want anonymity, move to Toronto.
B. Small changes create massive impacts.
Resources act like discreet variables, in a small town, and more like continuous variables, in larger centres.
Adding one nurse to a staff of 100 creates a 1% change in spending, resources and scheduling.
Adding 1 nurse to a staff of 1 creates a 100% increase. This makes access and efficiency mutually exclusive most of the time.
The same applies when people leave. Staffing can swing from feast to famine and back again, within weeks.
Also, staffing changes create ripple effects with an irreversible impact.
One new surgeon could impact 3 local doctors: for example, the minor procedures doctor, the vasectomy doctor and the scoping doctor.
Within a year or two, all the family doctors who used to provide these services will have lost skills and interest. When the surgeon leaves in a few years, the community could be much worse off than before the surgeon came.
The same thing happens when a specialist starts flying in for clinics or doing cases that used to be handled by the local surgeon.
Shifting practice scope is normal, but the shifts can be huge in small towns.
One day, a family doctor could have a very broad scope of practice with acute care, CCU, procedures and long-term care. The next day, she might be kicked out of the hospital by internists and hospitalists, have ED shifts covered by locums with EM credentials and find the minor procedure rooms all booked by visiting doctors.
C. Northern and small towns have less competition.
It is not uncommon to hear about CEOs or Chiefs of Staff holding court for decades, while a medical community ossifies and crumbles.
These towns scare away new recruits. New doctors smell decay and find reasons to go elsewhere. Few people want senior admin jobs after someone else has held the spot for decades. No one wants to try to figure out a culture unchanged since 1995.
Just like curmudgeons and eccentrics, bad leadership casts a big shadow in a small town. It's hard to dilute.
But lack of competition can be good, too. One passionate person, with a heart for service and change, can radically transform a small town.
More often, I found small communities held together by one or two people dedicated to helping their colleagues. Big things happen when one person gets fired up in a small town.
Suggestions for Northern Medicine
Dozens of doctors offered ideas. Some advice came in what was not said. We can capture much of it in these basic requests:
Find out what the local doctors think might work. What won't work? What's been tried before? And have the courage to push back if they cling to failed ideas [last sentence added after an email from a friend].
Understand the real issues. Every town has its own special problem(s). It might not be obvious or come up easily in conversation.
Let local doctors try to solve their own problems. Don't solve something they didn't ask to have solved. When they ask for help, follow 1) and 2).
Embrace the unexpected. Every place has unique people and interesting characters. Small towns allow eccentricity to flourish.
Overall, I was impressed with how many small communities find their own solutions. They pull together. They make themselves irresistible to new graduates.
Some towns get first pick for new hires: Students love learning there and choose to stay after residency.
Many communities find creative solutions to staffing and on-call coverage. Groups tend to feel ownership for all the resources in a community. The connection between hospital and community is more intimate.
To paraphrase Tolstoy: Happy towns are all alike; every unhappy town is unhappy in its own way.
In our system, need usually trumps merit when it comes to government funding. We might consider shining a spotlight on success instead.
So many small town doctors provide a scope and level of care unseen in larger centres. Many tiny communities enjoy high quality, acute care services only found in much larger, urban hospitals.
We should learn from northern medicine. Many small towns are truly special. Instead of trying to fix northern issues, we might listen for tips that could transform our whole system.
photo credit: tourismredlake.ca