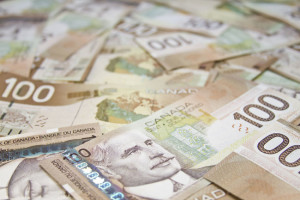 Nurse practitioners (NPs) make twice as much as family doctors per patient. It costs between $130,000-$140,000 to hire one full time NP.  That is, an employer must fund  salary + benefits + salary for replacement staff when NP is on holidays.  This is a standard calculation for all salaried positions in hospitals, industry and private practice.  An NP experiences this as an annual income of around $110,000 plus benefits.
In capitated practices, individual providers roster (enroll) patients into their practice. Clinicians care for their rostered patients and see their colleagues' patients if urgent needs arise.
Note: capitation pays doctors an annual fee, in monthly instalments, for all the care each patient requires. Docs can work towards earning small bonuses if they meet screening targets. These are bundled into the calculations below.
A full time family doctor (FP) rosters 1,600-2,000 patients, some carry more. A full time NP rosters 300-400 patients and cares for them as their primary provider with a physician serving as back-up. An NP receives the same salary regardless of their roster size.
Nurse Practitioners Pay/Patient
$130,000 income / 400 patients = $325 per patient/year.
If 300 patients, NPs earn $433 per patient/year.
Family Doctors Pay/Patient
$200,000 (net) / 1,600 patients = $125/patient/year.
For 2000 patients, an FP will net around $240,000 = $120/patient/year.
At $125/patient, family docs would earn $50,000 annually to see the same 400 patients as an NP. This equates to $40,000 + 20% benefit package. Per patient, family doctors get paid 38% – 29% of nurse practitioners.
In addition, nurse practitioners
Do not have headache of paying overhead.
Do not spend unpaid time managing overhead/office and do not assume legal risks of owning an office.
Do not prescribe narcotics or controlled substances distancing them from a challenging group of patients.
Have doctors for backup decreasing liability.
Leave the most complex patients for FPs to sort out.
Get lunch breaks.
Do not take call after hours.
Can forget the office when they go on vacation.
Many family doctors tell me the NP deal looks attractive. These docs would love a slower pace. If the government offered to pay NP rates for a roster of, say, 500-600 patients with the same benefits, I know many physicians would jump at the opportunity ($325 x 600 patients = $195,000).
But NPs spend so much time with patients! They practice unhurried holistic care. Family doctors rush and treat people like cattle.
Many family doctors would love to practice the same unhurried holistic care completely insulated from any concerns about anything beyond the 7.5 hour work day.
Income Inequality
Some doctors work faster, roster more patients and earn four times as much as an NP. People then assume that all doctors are fat cats.  No one cares about how hard a doctor works to earn a larger income.  Voters see doctors working harder in terms of cheating patients with shorter appointments. They assume that taking longer to provide care equals more care overall.
Doctors feel incensed at the injustice that NPs get paid twice as much per patient.  Marxists feel equally incensed that any worker could earn a much higher total income in the same industry.
Insurance vs. Managed Care
Government has changed Medicare from health insurance into managed care. Central planners obsess over inputs instead of outputs, costs instead of service and quality. Time becomes a key component of any input-centered system. Longer care becomes quality care. Obsession with input combines with an ideological commitment to income equality. Perverse incentives arise when central planners arbitrarily fix incomes to meet chic social promises.
In the end, patients lose out. When one provider makes twice as much per patient for easier work, the lower paid provider adjusts his or her service accordingly. He or she does not do it consciously, but it happens nonetheless.
Nurse practitioners provide enormous value when properly trained to use all their abilities as part of an interdisciplinary team. But they are not cheap. Governments know that.  For primary care, family doctors offer an incredible bargain. Politicians just won't admit it.
[Photo credit: torontosun.com]