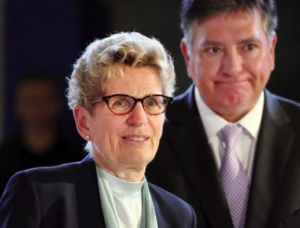 We scrambled to book massages and orthotics for our children.
The year was almost over. We had unused health benefits.
Did they need a massage?
Who determines need versus want?
Do need and want overlap? If not, where does one end and the other start?
Economists teach us that demand for free products and services is infinite.
Voters experience the limits of free government products and services as rationing. Stuff runs out. Wait lines form.
Governments cringe at accusations of rationing, so they add other non-payment costs to the free things they offer.
They make people fill out forms or force doctors to look up limited use codes or design behavioural hoops to qualify for a free service (e.g., quit smoking before surgery).
This makes services more difficult to access. It limits demand with less obvious rationing.
Starting Jan 1, 2018 in Ontario, people under 24 get free medically necessary pharmaceuticals whether they need coverage or not.
OHIP+ now pays for drugs that most families used to get through personal drug benefit plans, usually funded by employers.
Assisting people who need help is a good thing. But why give free meds to people who do not need them?
OHIP+
Consider acne products. We could spend piles of money on every young person with pimples.
Maybe government anticipated this? Maybe the provincial formulary won't cover acne medications.
But that would be cruel. Isn't acne a real medical condition? Some people have severe forms of acne and need strong medication to limit permanent facial scarring.
Will there be a means test to determine who warrants treatment?
Will doctors have to fill out special forms to prove specific patients deserve coverage?
Will doctors feel pressured to diagnose patients with more severe acne in order to qualify for free meds?
The epidemic of ADHD grew, in no small part, because ADHD qualifies students for school support. Will we see an acne epidemic?
Every free service creates moral hazard. We tend to use up a free service to the full extent, regardless of how much benefit it provides, since it costs us nothing.
Every opportunity for government to provide a free service creates a moral hazard for government, too. Free stuff wins votes for politicians, without personal risk.
But this creates waste. It eventually forces governments to ration care. Provincial formularies cannot cover everything. Ontario owes $300 billion.
Who can save us from this cycle of spin and debt?
Surely people can see that more free stuff from government does not lead to better outcomes. Of course we should help people who need help. Is another government program the best way to do it? We already have Ontario Drug Benefits and Trillium insurance.
Should we have a pharmacare program? Let's debate it. Let's find a way to build something that makes sense instead of something largely redundant in the face of greater needs.
Governments benefit by offering more free services. It's in their best interest.
Governments take a brokerage fee off every tax dollar they collect.  More collection generates more fees.
Governments create their own demand for growth. Growth requires more bureaucracy to manage collection and oversee new services.
OHIP+ seems to benefit everyone: patients get free meds, insurance companies no longer have to pay for people under 24, government gets to expand, and Premier Wynne gets votes.
Giving taxpayers for free what they already have through other means benefits everyone except the taxpayers.
Healthcare faces an impossible challenge: Almost everything in healthcare helps, even if only a little. At some point, we must decide whether every little thing we can provide is worth the cost to do so.
Premier Wynne's new law is about much more than free medication for young people.
The most important decision is who gets to make the decision.
As long as we let governments give more help, especially for people who do not need it, we give up our ability to decide.
Did the massages help my kids? Probably a little. Maybe they will get free massages next year, when OHIP+ becomes OHIP++.