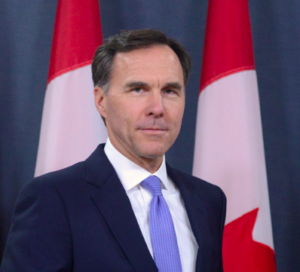 Please, make it stop!
Once again, government has attacked doctors. This time, the federal government took a turn.
Finance Minister Morneau said doctors were using a "loophole" in the tax code, breaking the law against loopholes.
He suggested doctors were cheating and not paying their fair share.
He promised public consultation before addressing the overpaid doctors.
The provincial government gave doctors the ability to incorporate in lieu of fee increases, just over 10 years ago. Most other provinces have had the ability to incorporate for much longer.
Doctors could finally build a pension and create self-financed benefits just like other incorporated businesses and salaried workers.
But the federal government needs money.
"We still find the greedy hand of government thrusting itself into every corner and crevice of industry, and grasping at the spoil of the multitude….It watches prosperity as its prey and permits none to escape without a tribute."

— Thomas Paine
When looking to save money, bureaucrats and politicians do the following:
They scan a budget.
They find the thing that costs the most.
Then they cut that thing.
Of course, they have options. They could close down dozens of small, failing projects.
But this approach creates political pain. It is much easier to trim 30% from one large budget item than to eliminate a dozen small ones.
It is easier to deal with outrage from one small group that lost something than to deal with dozens of groups that lost everything.
Politicians always take the path of least political resistance.
Overpaid
Cutting doctors fits well with the urban myth that doctors are loaded.
They are overpaid. They make hundreds of thousands of dollars!
And they don't perform well. Look at the wait times!
They should be made to pay their fair share.
"You say, 'Williams, don't you believe in helping your fellow man?' Yes, I do. I believe that reaching into one's own pockets to help his fellow man is both laudable and praiseworthy. Reaching into another's pockets to help his fellow man is despicable and worth of condemnation."

— Walter Williams
Doctors have gone through hell in Ontario. Net income is down 30% since 2012, before benefits, retirement, taxes, etc.
Doctors have just started to tip-toe around rebuilding a working relationship with government. There is hope, but doctors are extremely skeptical of anything to do with government right now.
Rebuilding a relationship centred on equity and respect will take time and consistent behaviour from both sides.
The federal Liberals' attack destabilizes doctors, again. It makes business planning impossible. Doctors do not know if they can sign leases, purchase equipment or hire employees.
Doctors assume huge debt during training and even more to start a practice. They have no benefits, pension or sick time. If they get injured or lose their job, doctors have no unemployment insurance.
The tax "loophole" of incorporation addressed some of the challenges facing small businesses. It made private practice doable.
Who Cares?
Cuts to doctors mean cuts to patient care. It will take months, or years, but patients will feel the cuts inevitably.
Cuts do not make doctors work harder.
Doctors become even more demoralized. They work less.  They tell their children to avoid medicine. They retire early. They leave Ontario.
But maybe government likes this. Fewer medical services means less spending on medical care.
As for docs leaving Ontario, a prominent journalist said recently, "There's the door."  Nice.
CIHI estimates that we will have 68% more seniors over the next 20 years. Seniors need doctors. Even Toronto's far left media outlet published an editorial, this week, worrying about the impact on patient care from underfunding physician services.
Provincial and Federal Liberals need to figure this one out. To be clear, the feds caused the latest problem, not Ontario. Still, governments communicate.
You cannot tag team doctors without harming patient care. Many doctors are convinced government hates them. It might be wise for government to show that it does not hate patients.