Patient flow seems impossible to fix in most hospitals.
Nearly every step in a patient's journey can stop flow.  Even the most LEAN-ed processes require fanatical vigilance to guarantee patients don't get stopped as they move through our hospitals.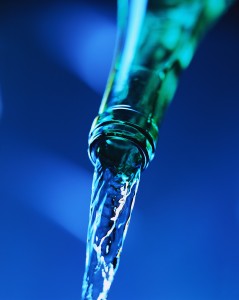 Eli Goldratt popularized 'bottleneck' in his classic 'The Goal' – a long narrative presentation of the Theory of Constraints.  A worthy read.
Bottlenecks decrease flow.
They cause havoc by showing up unplanned.  In industry, bottlenecks turn up as critical processing steps whose maximum speed determines the maximum speed of a whole production line.
In healthcare, bottlenecks change all the time.  In fact, a dozen different things could be the bottleneck – the rate limiting step – over 1 day in the ED.  During the morning, it's lack of staff; during the afternoon, it's lack of beds.  Despite this, most folks like to blame their favourite bottleneck:
 "If we only had more beds. If only we didn't have admitted patients!"

"If only we didn't have such slow docs!"

"If only we had more nurses (or faster nurses…)!"

"If only we had more space!"
If only…
Picking one bottleneck – usually out of our control – removes responsibility to address all the bottlenecks within our control.
In recent posts, we've been talking about closing the waiting room, bringing patients straight into the ED and cycling them from chairs to exam tables.  These steps bypass the 'bed block' excuse most EDs use for making patients wait for hours in the waiting room.  Once patients get ushered straight in, dozens of new bottlenecks show up: nursing shift change, waiting for porters, DI/Lab back-up, not enough MDs, patient reassessment delays…running out of patient gowns…
There's only one way to guarantee a bottleneck will never slow flow in your ED.
Parallel processing
Like putting together an IKEA cabinet, some things need to be done in order.  Sequential processing means doing things one after the other – like a long train of boxcars.  However, insisting on sequential processing creates hundreds of potential bottlenecks.  Parallel processing unhitches the boxcars and lets them all run on separate tracks at the same time.  That way, if any process stops, all the others can continue.
Simple enough…
But, medicine loves process.  Many of the sacred cows in emergency medicine are core to sequential processing:
Triage followed by

Secondary Assessment followed by

MD assessments followed by

Lab and DI followed by

Portering…

Reassessments…

Discharge
Most providers fight to keep care in a general order.  It's what they're used to.
A parallel approach looks like this:
Triage (sorting only…more in another post) followed by

Everything else
Easy, right?  It's not.
If you truly adopt this thinking, you might have MDs assess and discharge a patient before the patient even sees an RN.  Or, you might have Lab/DI and discharge planning involved before an MD gets to a patient.  This requires huge flexibility for providers who've been bound by historical process.
But…but…what happens first?
After triage, everything else gets done 'as soon as possible'.  Whoever can get to the patient first, gets started on their part of the process even if it means they can't complete it before another provider arrives.  Get it done, now!  Sequential steps can never be tolerated as an excuse for making patients wait.
What bottlenecks are holding you back?  What's holding you back from adopting a fully parallel approach?  Share your thoughts by clicking on 'leave a reply' or # replies below.