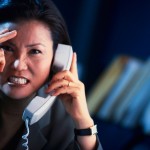 Patients need to complain more.  Seriously.  But, they should learn how.
Someone shared this last week:
I was lying in urine in the ICU.

My nurse said, "How could you do this?"

I couldn't help it; I felt so bad.

She was so upset.

I wanted to find out her name, but I'm over it.

She didn't know.
What will happen to her next patient who wets himself?
Doctors, nurses, clerks, security guards, students…everyone in healthcare provides less-than-excellent care some of the time.  Your complaint can change the system, but you must do it right.
Many confuse complaining with venting like the photo above.
Venting changes:
1. How you feel.

Ha! I sure told him!  You shoulda seen his face…

2. The opinion your listener has of you.

Oh my, she really has issues!

He's got a point, but he needs to get over it.
Vent a little to those who love you unconditionally.  Put most of your energy into crafting a great complaint.
Here's how:
Be specific – focus on one issue with objective, gritty detail.

Be polite – rudeness discredits you.   Your main audience is other providers who will subconsciously be questioning themselves, "Would I have treated this person the same way?"

Be dispassionate – be calm; no emotion; not in the heat of the moment.

Be honest and humble – admit your part in the issue, if any.

Offer solutions – know what you want to see changed and how it might be done.

Address your complaint to someone who can make a difference – do NOT vent to a provider in the moment.  It won't accomplish what you want and could make things worse.

Don't retaliate – great complaints display genuine desire to improve things.  Complaints that start with the CEO, Chief of Staff, Member of Parliament, or regulatory college won't get the change you are after.
Bonus points:
Apply your case to others.  Think beyond yourself.

Address system issues.
Huge hospitals completely change policy for one well written complaint.  Learn how to complain well, and you will see the change you hoped for.
Please share your thoughts by clicking on Leave a Reply or # Replies