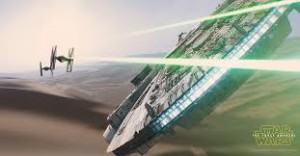 [Mea Culpa: The first draft of this post gave the wrong message through my flu-tinged haze. I hope this works better.] 
Fans love The Force Awakens and forked out millions to see it. The newest Star Wars movie played true to its roots and offered hope for something better.
Producers know what to deliver next, as fans wait for the next episode.
Doctors need the same clarity.
Agreed to Walk Together
One of 'Canada's best writers', George Jonas, died this month. He was an ardent defender of freedom, a critic of tyranny.
Jonas said Canada was modern Europe's transatlantic outpost, "the glossiest, the most sophisticated, and the most up-to-date version of the illiberal state." (see Beethoven's Mask
)
What does that have to do with modern healthcare? Liberty, or the state, elicits a few patronizing smirks in medical politics.  Liberty is out of style.
Wicked Nonsense?
If government wants to walk south, and doctors want to walk west, is it compromise to walk southwest? Or is that walking in an entirely different direction?
Wicked questions ask, "How can we walk both South and West at the same time?" As much as we love them, wicked questions sometimes lead to absurd ends, nonsense.
Decimation
Doctors bore a decade of deep cuts, clawbacks, and arbitrary caps in the 1990s' social contract years in Ontario. By the early 2000s, over 2 million patients had no family doc. Those lucky enough to find one often drove over 90 minutes to an urban clinic.
Students avoided family medicine: they even left the country to train in any another specialty.
People talked about the end of family medicine. Doctors took jobs anywhere else but in comprehensive care. It was beyond desperate – hopeless decimation.
Negotiations' Enigma
From a position of demoralized desperation, doctors came up with a plan to negotiate with government.
1) Find out which direction government wants to go.
2) Get as much as possible out of government for agreeing to the government's plans.
Compromise worked. Many hail the 2004 and 2008 contracts to have rescued Family Medicine, in Ontario. After a decade of cuts, doctors' business earnings started to catch up with inflation.
Doctors ignored where the government was headed. Why worry about old-fashioned things like autonomy and professionalism? Legislation, regulation, and simpler contracts seemed irrelevant, quaint.
But 2012 marked a sharp change. The government started cutting and has continued to cut fees every year since, erasing gains from 2008.
Of course, government did not reverse contract details that worked to its benefit. The golden goose took back most of its eggs but left its droppings.
A New Hope
Doctors need a clear vision on where they want to go from here.
Do MDs believe in old-fashioned ideas like the doctor patient relationship?
Do doctors believe in politically incorrect ideas like liberty, hard work, and reward for delayed gratification?
Doctors need to get very clear about what we believe and figure out an attractive way to package it. We need to invite attacks to our ideas about innovation and prepare to defend them.
Docs are often too scared to discuss system change, because someone might accuse us of being self-serving.
Doctors cannot let government rule by inciting a frenzy of envy each time we try to discuss system innovation. Government owns the congenial myth of wealthy doctors. Let them have it. We'll never win on that front.
We are paralyzed worrying about what the public thinks. It gets us nowhere. Patients love us when we care for them. No amount of public support will carry doctors through cuts that compromise care.
We need a new hope. We need a vision to fight for: something that doctors articulate, not something that government dictates.
We need hope that stays true to our medical roots, as a profession sworn to help patients and not compromise by letting bureaucracy come before patient care.
Our patients want something to look forward to. Let's hope we come up with our own vision soon.