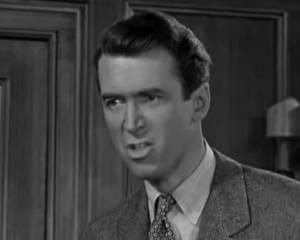 The movie, It's a Wonderful Life, is a political thriller, despite all the crying, hugging and cuteness.
At its core, the movie portrays a battle of political visions.
Will George Bailey accept Mr. Potter's salary in exchange for Mr. Potter's iron control of Bailey's Savings and Loan?
Will George stand up for his own political vision, of small loans for his neighbours, or will he sacrifice his integrity for Mr. Potter's vision of control and serfdom under Potter?
The movie pivots on George's refusal to accept Potter's vision of reality.
The following 2 minute, 30 second clip captures the struggle:
Selling Out
Once surrendered, integrity is almost impossible to regain. Some say doctors have surrendered too much already. We gave in years ago: Better to compromise and get a raise than lose a fight and suffer more fee cuts!
Winston Churchill once asked a socialite if she would sleep with him for 5 million pounds.
The woman said, "My goodness, Mr. Churchill…Well, I suppose…We would have to discuss the terms, of course…"
Then Churchill asked if she'd sleep with him for 5 pounds.
The socialite said, "Mr. Churchill, What kind of woman do you think I am?!"
Churchill replied, "Madam, we've already established that. Now we are haggling about the price."
Prostitution has two meanings. Most people focus on the legal definition: sex for money. But prostitution means much more. It also means "the unworthy or corrupt use of one's talents for the sake of personal or financial gain."
Doctors need political vision to avoid prostituting themselves for a good fee deal. How much will doctors sacrifice for a fee increase?
If George Bailey did not have a political vision for the Savings and Loan before Potter made his offer, George would have signed the deal. But he stopped mid-handshake. Potter yelled at him, "Confound it! Are you afraid of success?!"
New Rules for Negotiations
Negotiations used to be about doctors asking for fees and government deciding how much it could pay. Now, negotiations are about how much doctors will sacrifice for the fees government offers.
Government wants control: hours, access, types of patients and much more.
Government is no longer satisfied to let fees and patient need determine MD behaviour. Government wants to pay for MD behaviour to make embarrassing problems disappear for government.
In this new world of negotiations, doctors must ask:
What is non-negotiable?
What will integrity not allow, no matter how sweet the offer?
Even without details, doctors need a sense of how much they can sacrifice, before they hear Potter's offer. Doctors need a political vision, before negotiating. Making a deal should not come before crafting a clear political vision.
Apolitical
Over the last year, a number of people have declared themselves apolitical. It suggests they are untainted by politics: They hold a virtuous innocence about political theory. They banter about political ideas, but only the way grownups tolerate babies on airplanes.
Saying you are apolitical is like saying you do not breath.
Saying you are apolitical is like saying there was no 'in-crowd' in high school. If you could not see the in-crowd, then you probably were part of it.
Saying you have no political opinion is to have a political opinion. This attitude serves to advance the current political vision of liberalism, which holds that you can do whatever you want as long as you do not hurt anyone, but at the same time, the state should control everything else (libertarian socialism).
Too Political
People bemoan the chaos caused by linking healthcare to election cycles.  Some want a separate governing agency, something like the Bank of Canada.
But "apolitical healthcare" is a political position itself.
Every opinion about each issue in healthcare presupposes a political philosophy. We cannot discuss access, self-regulation, quality, innovation or any other issue in healthcare without advancing a political vision.
"The ideas of economists and political philosophers, both when they are right and when they are wrong, are more powerful than is commonly understood. Indeed the world is ruled by little else. Practical men [and women], who believe themselves to be quite exempt from any intellectual influences, are usually the slaves of some defunct economist."
Doctors miss the point if they only address issues and not ideas. Medical politics is about ideas, not just issues.
Premier Kathleen Wynne isn't just an activist for certain issues. She has a vision of what society should look like. She wants to reshape Ontario into her vision of reality. She wants to reshape how people interact and how people understand their relationship with government.
Political Vision
Doctors need their own political vision. They need a grand sense of what they want their profession to look like in society, even if that vision includes a reality that is messy and wild, like real life.
Doctors should ask:
Do they want medicine to be a technocracy: a monopoly of technicians?
Do they want medicine to be a messy society of innovators?
Do they want medicine to look like an aristocracy with tradition, rules and institutions?
Do doctors want to be serfs, merchants, priests or independent professionals?
Without a political vision for medicine–some defining narrative–doctors will always appear reactive to the vision advanced by the current government. Doctors will continue to spin and wobble, hit by issues that punch from so many directions at once.
You can count on this: Government will seek to build on its own political vision in negotiations.
Doctors must form a political vision and advocate for it without apology. We need to build our medical associations into vehicles that advance our vision.
Right now, our vision is soft. All we want is as much as the government will give so that we can keep seeing patients. That's not good enough. It means doctors are for sale; nothing is off limits. This approach degrades us. We must stop prostituting ourselves to someone else's political vision.
George Bailey had a clear sense of how he thought life should work. He knew what to fight for. He knew the battle did not lie with the issue in front of him but with the political vision behind the issue. Will doctors find their limits before government starts negotiating fees?