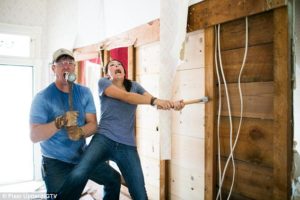 There are two kinds of homeowners. The first kind would never change faucets and doorknobs. They buy a house, tear it down and start over. 
Other people keep what they can tolerate. They cannot afford to be radical.
No matter the approach, everyone agrees: The point of renovation is to rebuild.
Like an old house, the OMA sprawls with additions, legacy rooms and dark closets unfit for visitors. It's tired and dysfunctional. Most people finally admit it.
The OMA was never built to service 42,000 members. It was not designed to command a battle with an activist, majority government in the trenches of social media.
Crisis can bring out the best in people. It often brings out the worst in organizations. The OMA crisis exposed problems that no one talked about when times were good. Crisis forces organizations to face dysfunction. Dysfunction invites scrutiny, and scrutiny demands change.
If organizations do not respond on their own, or do not convince members/shareholders that they take a crisis seriously, members attack. They fire the Board, sue the organization and otherwise do anything they can to force change.
Teardown to Rebuild
Doctors in Ontario have forced the OMA to change. Now doctors debate what that change should look like.
Most doctors seem to want a renovation that leaves some structure, but they want everything updated and improved. Others want everything demolished.
We are near the point where the OMA renovation must switch from teardown to rebuild. No doubt, the OMA still needs more demolition, and some of the demolition will involve tearing out new committees that have just been struck. But we cannot focus on demolition forever.
If this were a renovation show on HGTV, it would be near the point where the homeowners start to fight. Their satisfied glow of accomplishment has faded. Reality sinks in. They stand knee-deep in debris staring at an immovable obstacle: a load bearing wall or a plumbing stack.
Some things at the OMA will be hard to change, maybe even harder to change than to work around. Renovation will not be perfect; nothing ever is.
We should aim for perfection but accept reality. We cannot restart a campaign to demolish the OMA when change does not go exactly as we want.
Committees will need to be sunset, and time-limited task forces struck. The end result will still be a large organization, but hopefully a less bureaucratic one.
Hopefully, more like Starbucks and less like Service Ontario.
Time to Rebuild the OMA
Government forced the OMA to the brink of collapse. Government stretched the OMA beyond what it could bear—exposed embarrassing weaknesses. But the OMA will turn out stronger, more member-focused and better able to fight for itself.
Some people have spent decades calling for change at the OMA. They say the OMA is in bed with government. They accuse the OMA of corruption, secrecy and dysfunction. They feel vindicated by the OMA's turmoil.
There comes a point when even the harshest critics of the OMA must shift gears. We all need to give the OMA time to reform. It will be messy and painful for many months, and there will be tradeoffs on what we can accomplish. But we must transition from demolition to rebuilding.
Of course, doctors need to stay vigilant and involved. We need to watch what the Board tries to change before the new Board members take office.
In all of the mess associated with renovation, doctors need to start thinking about the new structure. What comes next? What do we need from our organization?
Focusing on missteps and fumbles uses up time and energy that we need for the next phase. It's time to rebuild the OMA.
Photo credit: dailymail.co.uk