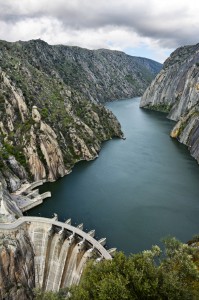 Reservoirs often show up as extra capacity, and who wouldn't welcome that?  Shiny new clinical space gets first place on hospital tours, center stage in photo shoots and prominent mention in ad covers.
We find reservoirs all over healthcare: special inpatient wards, waiting rooms, bigger clinics, bigger emergency departments…extra capacity.
But, mindlessly expanding capacity decreases patient flow – increases patient waiting – if we don't guard against forming reservoirs.
5 features of reservoirs in healthcare:
 1. Reservoirs slow patient flow.  Like giant, hydro-electric dams, they convert high flow, hard-to-manage situations into low flow, contained events.

2. Reservoirs allow us to meter out patients – for example,
we trickle them in from the waiting room into the ED, or trickle them up to the inpatient wards – when we are ready to see them.

3. We find reservoirs familiar; a common solution to high flow demands. They're socially acceptable.  In fact, most institutions pride themselves on the size of their reservoirs.

4. Reservoirs decrease chaos and make us feel safe, but patients feel just as scared and unsafe while parked in a reservoir.

5. Reservoirs fill easily.  They attract contents.  Reservoirs might empty now and then, but they tend to promote filling and storage (waiting).
Waiting rooms, gigantic emergency departments or even special inpatient wards are reservoirs, and patients do not benefit from them if they exist only to slow patient flow.
These fat areas in the stream of patient flow end up grinding flow to a halt without extreme vigilance to keep patients moving.
We have to match patient volumes with flow; not capacity.  Sure, we always need more beds, but we need increased flow more.   Flow doesn't just mean flow out of the hospital; it means flow in, too.  We often blame long term care or families for not taking patients home, as though there'd be no waiting if there were no alternate level of care patients (ALC; patients who need long term care) in the hospital. Or, we blame the inpatient wards for not taking patients out of our EDs sooner.
Truth is: we didn't have an ALC problem years ago, but we still had admitted patients in the ED.  ALC represents one (major) factor impeding flow, but it's not the only issue.

In the same way, patients crowded ED waiting rooms long before holding admitted patients in the ED became such a problem.
Until we develop a culture of taking every patient in – in to the ED and up to the wards – when they present, and not just when we are ready for them, we will never get rid of reservoirs and crush patient waiting.
How can we balance maximal patient flow and institutional capacity?  Is bigger better?  How can we avoid building reservoirs?