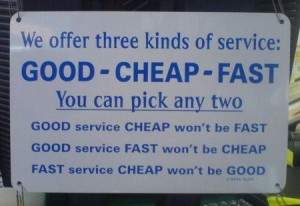 People ask, "What does my Family Doc bill when I go to see her?" This post tackles the most common fee code that family doctors use and how cuts relate to patient experience.
"Do I have pneumonia?"
Imagine you visit your doctor for a bad chest infection. She listens, asks about specific symptoms, rules out other problems with more questions, reviews your family history and performs a physical exam. She orders a CXR and blood work, reviews your allergies and medications, and writes a couple prescriptions. A few days later, she reviews your blood work and x-rays then has her staff call you with the results.
Your visit, tests and follow-up cost $33.70.  The fee code is called an Intermediate Assessment, A007, a cornerstone of family practice.  Of course, there are higher fee codes (e.g. Annual Physical). They're billed far less often and require more office time.  A007 acts as a benchmark for work in family practice. The OHIP definition reads:
"An intermediate assessment (A007) is a primary care service that requires a more extensive examination than a minor assessment. It also requires a history of the presenting complaint(s), inquiry concerning and examination of the affected part(s), region(s), system(s) or mental and emotional disorder as needed to make a diagnosis, exclude a disease and or assess function. This is a family practice code but should also be billed by specialists practicing outside of their specialty and/or in a primary care practice setting."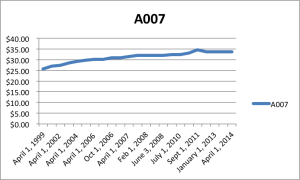 In 1999, A007 paid $25.65.  Fifteen years later, it pays $33.70. It increased 1.84% per year – less than inflation for the same time period (1.97%).
Overhead, Hours, Billings
A doctor's office costs approximately $120-$140,000 per year in Southern Ontario. Most doctors take at least 4 weeks holidays. Therefore, overhead costs $2500 – $2900 per week worked.
A physician must spend 20-30% of her time with office work, not seeing patients. That means 1 day of reviewing labs, charts, and X-rays for every 4 days of time with patients.
Seeing patients generates fees. Reviewing labs and X-Rays does not.
A full time family doctor has 30 hours/week to see patients (7.5 hr x 4 days). Doctors must see 2.5 – 2.9 patients every hour, at $33.70 per patient, to cover overhead.
Most doctors can see 4-5 patients per hour if patients have one, straightforward complaint. With high overhead and 4 patients per hour, doctors earn $37.07/hr. At the other extreme, with low overhead and 5 patients per hour, doctors earn $84.25/hr.
How to increase billings and decrease expenses
Doctors increase efficiency in 4 ways.
They work longer hours after their office is closed and staff have gone home.
They take fewer holidays when the office is open. That is, they avoid paying for an office unless patients are in it.
They decrease overhead expenses.
They see patients faster.
The first two cause physician burn-out, the third causes staff burn-out and the last cuts time with patients.
Treadmill
Patients feel the biggest impact of fee cuts in less time available with their physicians. Doctors end up trying to shorten visits and book unique appointments for separate concerns.
Primary care reform changed the fee-for-service-treadmill with capitation – paying doctors one fee (e.g., $135) – to provide all care for 1 year no matter how many visits are required. Older patients carry a slightly higher fee and the young a much lower one. But now, some patients struggle to get in to see their doctors; especially if they require multiple visits.
Patient Impact of Fee Cuts
Fee cuts:
Make the treadmill faster – less time with patients
Increase patient visits – docs insist on 1 complaint per visit in fee for service
Make it harder for patients to get an appointment in capitated models
Encourage physicians to work longer and harder for the same earnings (more burn-out)
After overhead, many family doctors make just over $100,000 per year (every average requires some to fall below the mean). Patients feel legislated fee cuts when they access care. Regardless of how you define what qualifies as a high income, most professionals will try to maintain earnings by working more, running faster, or decreasing overhead (e.g., reduce unpaid services). Patients feel this. That's more than enough reason to stop cuts.
photo credit: smartchinasourcing.com